Guns don't solve problems; people solve problems. Invest in people, not guns!
Marijuana is roughly 114 times LESS DEADLY than alcohol
According to recent findings published in the journal
Scientific Reports
. Of the seven drugs included in the study, alcohol was the deadliest at an individual level, followed by heroin, cocaine, tobacco, ecstasy, methamphetamines, and marijuana. Previous studies consistently ranked marijuana as the safest recreational drug, but it was not known that the discrepancy was this large. [
more
]
Why Do We Spend So Little On Our Kids?
Potential Environmental Disaster Threatens Kaua'i
The Kaua'i-based research group,
InfoImagination
, released a policy summary for residents and political leaders on Kaua'i regarding Ulupono: Hawai'i Dairy Farms proposal. The project is opposed by environmental groups, such as Surfrider Foundation Kaua'i Chapter and Carl Berg. Please educate yourself about the potentially disastrous project that threatens streams and ocean waters in this pristine area of the south shore near Mahaulepu:
Hawai'i Dairy Farms
proposal.
Pro Surfers vs. GMO Corporations
IRIE Thoughts of the Day
Let's just take a moment to appreciate life in general ... We're all so blessed and lucky to be alive.
~ Madonna
A Wall Street CEO, TEA extremist and Union dude meet for lunch. Waitress brings over a plate of 12 chocolate chip cookies. The CEO immediately grabs 11 and woofs them down. As the other two sit there in disbelief, the CEO whispers to the TEA extremist, "BE CAREFUL! The Union dude's trying to steal your cookie!"
I say this to anyone who's threatening death in the name of religion or politics:
Go F**k yourselves now! Go F**k yourselves now! Go F**k yourselves now! Go F**k yourselves now! Go F**k yourselves now! Go F**k yourselves now! Go F**k yourselves now! Go F**k yourselves now! Go F**k yourselves now!
~ Jon Stewart
There are friends, and then there are "HAWAIIAN FRIENDS"
Courtesy of Alika K Kalauli III (MAHALO)
FRIENDS: Never ask for food.
HAWAIIAN FRIENDS: Always bring the food.
FRIENDS: Will say "hello".
HAWAIIAN FRIENDS: Will give you a big hug and a kiss.
FRIENDS: Call your parents Mr. and Mrs.
HAWAIIAN FRIENDS: Call your parents mom and dad.
FRIENDS: Have never seen you cry.
HAWAIIAN FRIENDS: Cry with you.
FRIENDS: Will eat at your dinner table and leave.
HAWAIIAN FRIENDS: Will spend hours talking, laughing, and just being together then help clean-up when all pau!
FRIENDS: Know a few things about you.
HAWAIIAN FRIENDS: Could write a book with direct quotes.
FRIENDS: Will leave you behind if that's what the crowd is doing.
HAWAIIAN FRIENDS: Will kick the whole crowd's okoles that left you.
FRIENDS: Would knock on your door.
HAWAIIAN FRIENDS: Walk right in and say, "I'm home!"
FRIENDS: Get mad when you don't stay in contact.
HAWAIIAN FRIENDS: Years could go by and you pick up like it was yesterday.
FRIENDS: Come and go.
HAWAIIAN FRIENDS: Are family.
FRIENDS: Will ignore this email.
HAWAIIAN FRIENDS: Will forward it to spread "da Pacific Hawaiian kine aloha"!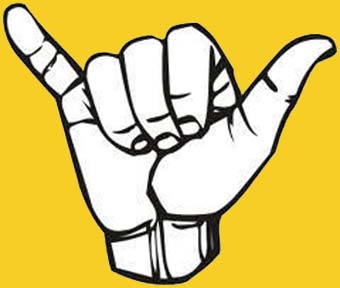 The Absence of A*L*O*H*A
Unjust wars and occupations radicalize people. The American Right wing secretly knows this but likes the vicious circle it produces. Wars make profits for the military-industrial complex and the resulting terrorism terrifies the clueless U.S. public and helps hawks win elections, allowing them to pursue further wars. And so it goes — until the Republic is bankrupted and in ruins and its unemployed have to live in tent cities.
~ Juan Cole
Spread A * L * O * H * A with the Peaceful Vibrations of Sashamon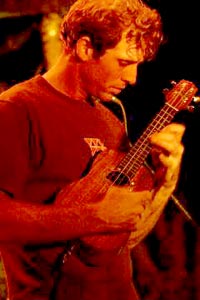 I want to introduce all my friends to Sashamon (Sasha Makia Spiller-Reiff). He originates from the Hawaiian island of Moloka'i and brings a unique peaceful vibe to the island music scene in an IRIE mix of Reggae, Rock and Hawaiian in
One Day Maybe,
his debut album. Sasha says:
"Everything is energy. Music is energy. Light is energy. I think the best art is like a beacon or a lighthouse that illuminates the truth and the beauty and shines on you to create a light inside of you.
It's like if God is the lighthouse, then music is just a part of that vibration. Music at its best, to me, is the cousin of the Creator. And we are creators, creators of life.
I think music is for praise and the illumination of this. If music helps show the innate godliness of ourselves, it can help us to treat one another more like human beings. I think ultimately we're just vessels here to help one another out. I don't think we're here to suffer."
For more info visit:
www.sashamon.com
Mahalo Nui Loa!
Spread A * L * O * H * A to all Americans, regardless of sexual orientation or gender
A lawsuit filed in federal district court states that Proposition 8 — which eliminated the right of same sex couples to marry in California — creates a class of "second-class citizens" and thereby violates the U.S. Constitution. The suit also calls for an injunction against Proposition 8 until the case is resolved, which would immediately reinstate marriage rights to same sex couples.
The plaintiffs are represented by Theodore B. Olson and David Boies. Olson, a former U.S. Solicitor General, represented George W. Bush in 2000ís Bush v. Gore, which decided the presidential election. Boies represented Al Gore in that case.
"Yesterday, the California Supreme Court said that the California Constitution compels the State to discriminate against gay men and lesbians who have the temerity to wish to express their love and commitment to one another by getting married," Olson said. "These are our neighbors, co-workers, teachers, friends, and family, and, courtesy of Prop 8, California now prohibits them from exercising this basic, fundamental right of humanity. Whatever discrimination California law now might permit, I can assure you, the United States Constitution does not."
"Mr. Olson and I are from different ends of the political spectrum, but we are fighting this case together because Proposition 8 clearly and fundamentally violates the freedoms guaranteed to all of us by the Constitution," Boies said. "Every American has a right to full equality under the law. Same sex couples are entitled to the same marriage rights as straight couples. Any alternative is separate and unequal and relegates gays and lesbians to a second class status."
Obama Addresses the AMA
Obama Addresses World Muslims
Obama's No Socialist. I Should Know.
April 15th Is Patriots' Day
Money for Nothing
Choohoo :: Yes We Can ~ Barack's the Man